Best Switch Controller for Your Gaming in 2022
Feb 14,2022 | nyxigame
The Nintendo Switch's Pro controller is superior to the company's smaller Joy-Con controllers for more demanding games. (Drift issues aside, the Joy-Cons are good for simple multiplayer games.) The Switch Pro controller has actual grips and is more comfortable. When you're in the heat of the moment, the full D-pad and larger buttons help you find the right controls. All of Nintendo's controller features like HD Rumble, NFC for Amiibo scanning and motion controls are supported, and it works with or without wires. It's great, but it's also regularly priced between $60 and $70.
Aside from lower prices, going with a third-party Switch Pro controller has some advantages. For example, some have a Turbo button for faster firing rates or mappable buttons to make certain commands easier to trigger.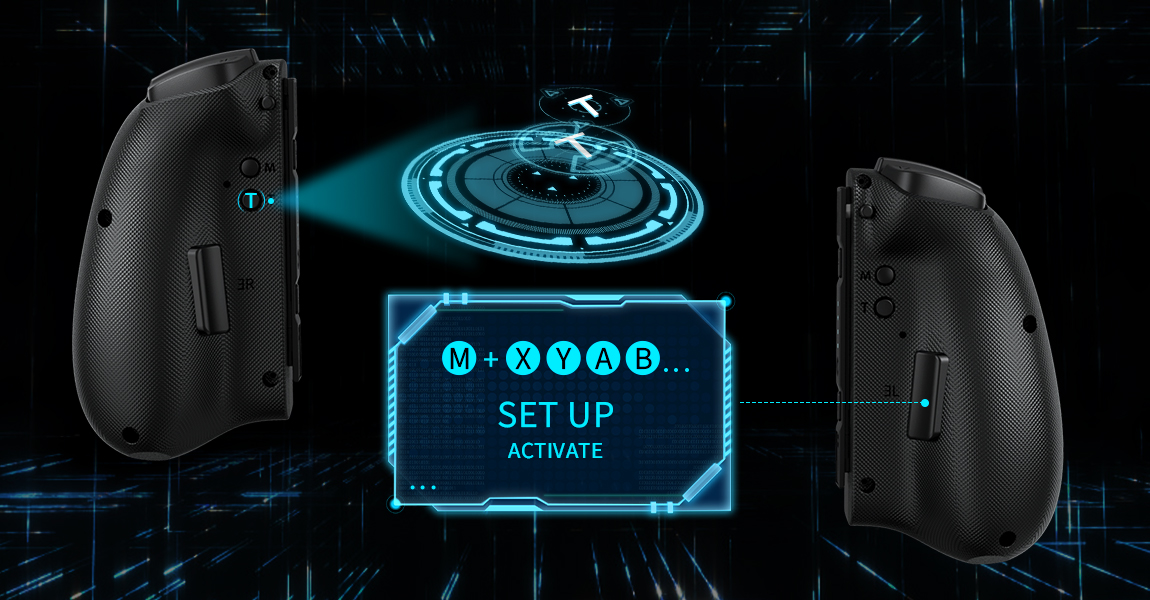 If you can afford to get the official Switch Pro Controller, do it. It's the best you can get at the moment in terms of comfort, performance and features. And if you need to buy more than one controller, maybe get this one for yourself and one of the less expensive options below for visiting friends and family.
NYXI Joypad is a combination of Nintendo's Joy-Cons and its wireless Pro Controller. There are left and right Joy-Con-like controllers that can slot onto the sides of the Switch. This gives you the comfort and larger controls of the Pro controller while you use the Switch handheld.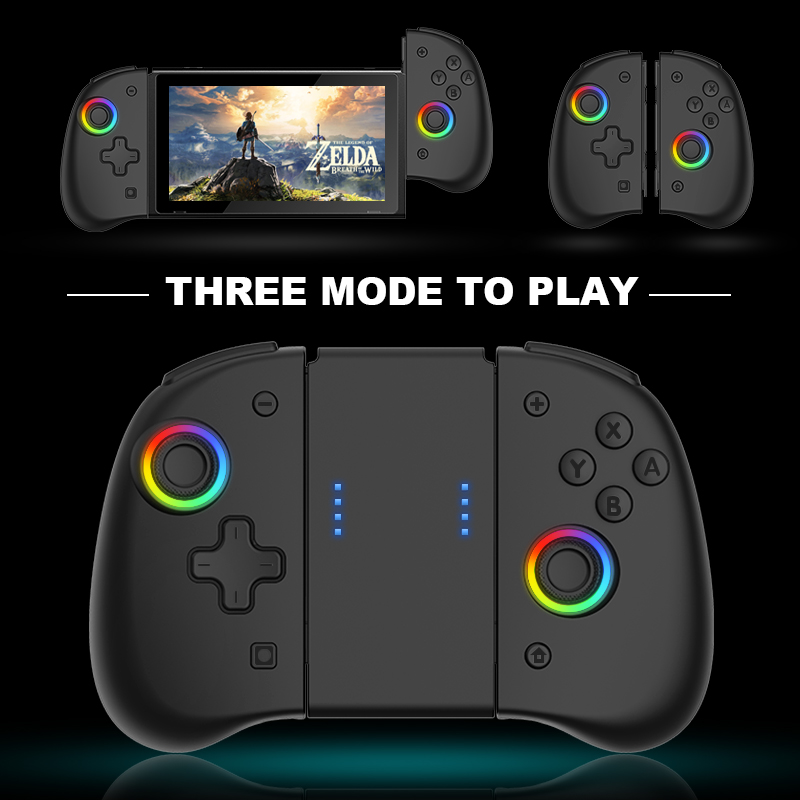 The NYXI Joypad can be used off the Switch because each has a built-in battery and Bluetooth. Besides, each joypad has adjustable rumble and motion controls. They both have a mappable button on the inside of their grips as well as turbo buttons. The Home button can wake the Switch when you're ready to game and you can even change the color of the LED light rings around the thumb sticks.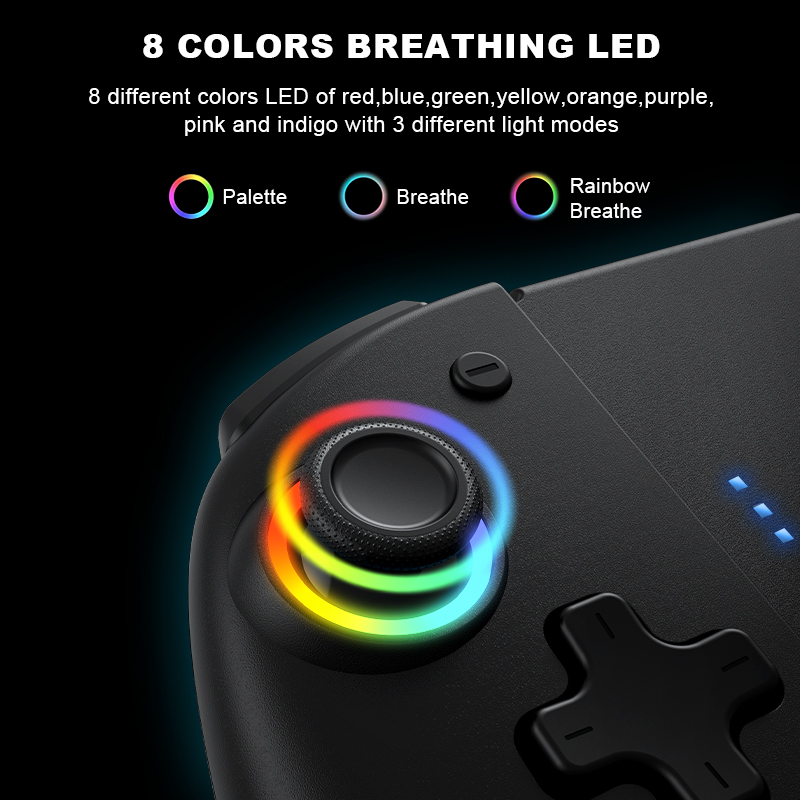 The included holder joins the two controllers together to form a single Pro-like controller like Nintendo's Joy-Con Comfort Grip. Unfortunately, this won't allow you to charge both controllers at the same time; each of the controllers needs to be charged separately through their USB-C ports or while attached to the Switch when it's charging (you can leave the controllers attached when docked).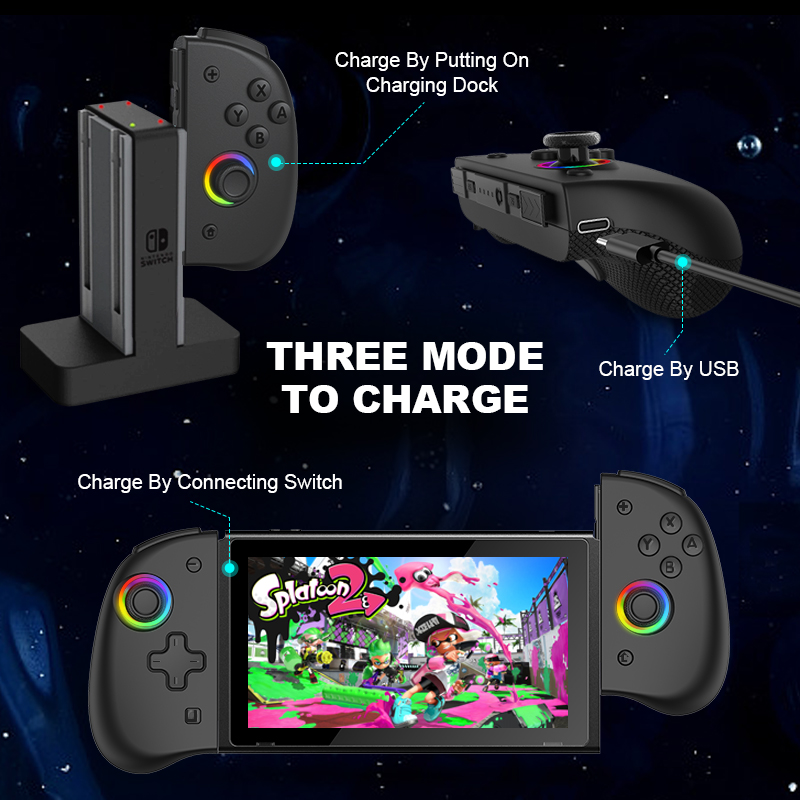 The holder is unusually wide, too, and with the controllers attached it's actually larger than a Pro controller. There's some flex where the controllers slot onto the holder giving it a tenuous feel. That flex, combined with its lightweight, makes the whole thing feel flimsy. Still, it's not like Nintendo's Joy-Cons are known for their reliability and overall this is an excellent option if you want to pay less and do more.